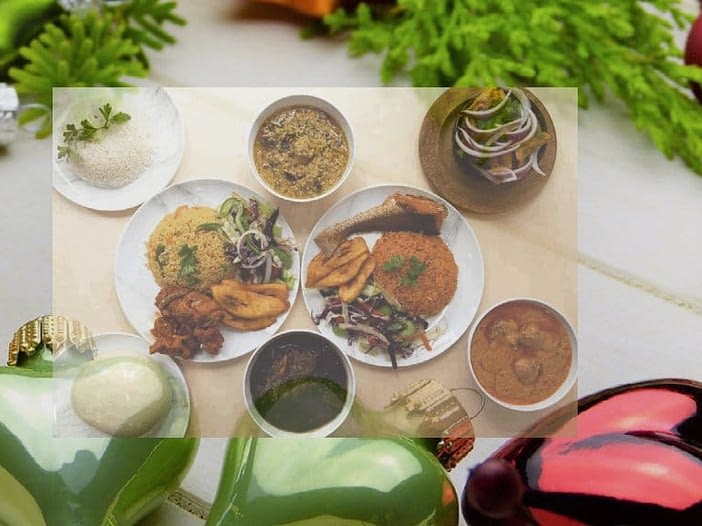 Africans are full of enthusiasm and festivities. We like to party! Our Christmas celebrations do not typically center on Santa Claus like in the United States. Rather, it is more about community gatherings with heart-warming foods African cuisines.
Africa is not a country but large continent with a nearly equal population of Christians and Muslims. But the process of celebration among the African countries like Nigeria, Ethiopia, Ghana, Kenya, Uganda, and South Africa are bit more different from each other. 
Christmas celebrations include gathering in churches for prayers followed by all-day feasts with families and friends. Dishes like roasted meats, stews and fried dough snacks make the celebration even more special. Since each country has its own food to celebrate Christmas, here is a breakdown of the local favorites at a few major countries of Africa.
Nigeria
In Nigeria, Christmas celebration includes visiting church in the morning followed by feasts along with delicious rice with spicy meat and creamy tomato sauce called Jollof. In addition to just Jollof rice, is coconut rice too which are paired perfectly with marinated spicy meat, fish stew and pounded yams dishes called Iyan of Pounded Yam (Fufu).
Ghana
Ghanaians seriously know how to celebrate any holiday. On Christmas Eve, they arrange a family feast. From appetizer to sweet dishes, they serve so many dishes that will make you hungry even if you are already full. The most popular dishes are Rice with Chicken stew and roasted goat meat. Additionally, they usually serve peanut and okra soup with meat as sides.
Kenya
Christmas celebration in Kenya includes massive barbeque gatherings. The table is stocked with beef, chicken, lamb, and goat with tasty rice and thin slices of bread called Chapatti. The ingredients widely used in marination are black pepper, turmeric, curry powder and garlic.
Uganda
Celebrations in Uganda typically last for more than two days starting from Christmas Eve. The Christmas in Uganda smells super meaty. Chicken, goat and sheep are the most common protein you will find on their meal tables. Ugandans top their celebrations with their famous green bananas dish. They are cooked and wrapped in leaves to be cooked again. This snack flavor is a trendy snack among the Ugandans.
Madagascar
Christmas celebrations on the island of Madagascar are filled with Yellow Rice with Chick or Pork curry. They also bake cakes made from Lychees as their staples.
Ethiopia
Christmas celebration is unique in Ethiopia. It's celebrated on 7th January since they follow old Julian calendar. They wear traditional dress, pray at church, and treat themselves with spicy meat and vegetable stew paired with eggs. The table is filled with colorful cutlery. Moreover, the roasted meat with a flatbread called Injera is one of the most popular handy snacks served
Christmas Celebrations at Keobi
While you may be craving for your local cuisines this Christmas season, #TeamKeobi can help you prepare mouth-watering African dishes that will make your Christmas celebration memorable. We can cater for your Christmas dinners for one or more families.
Stop by for a #TasteofAfrica if you live in or near Albany, New York. If you're visiting the Capital District, make #keobirestaurant your one stop destination for all your food needs. Look for us on the lively and historic Lark Street in Albany. We are becoming one of the topmost ethnic restaurants in Upstate NY and we are sure you'd find a variety of menu items that'd make your stay worthwhile.
Merry Christmas and Have a Happy New Year!