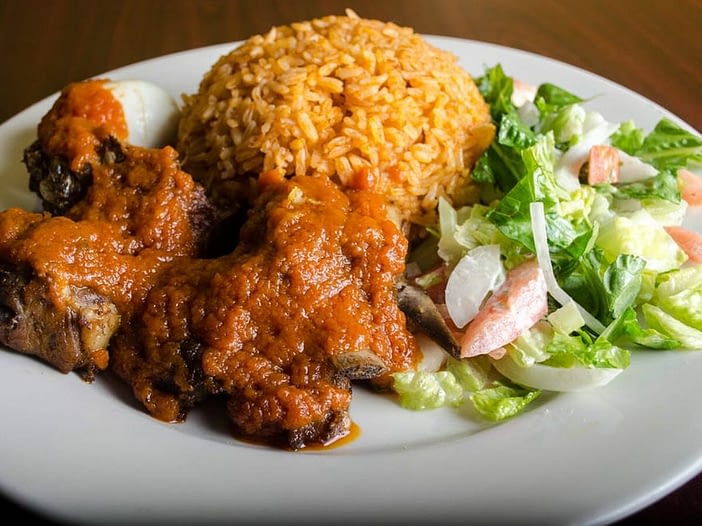 You may know Nigeria as a land of different ethnic groups, dialects, and butterfly species, but there is one more amazing thing that is Nigerian cuisine. Lavish, aromatic, and beautifully presented, these words can describe Nigerian cuisine pretty well. Nowadays, Nigerian cuisine is gaining popularity all over the world.
According to a food blogger, Folayemi Agusto internet is doing great in spreading the gospel of Nigerian cuisine all over the world. Now, people like Nigerian dishes and create them. They love to write blogs regarding Nigerian cuisine and food.
Different restaurants are opening around the globe and serving people with Nigerian food. African/Nigerian food is readily available in big cities like London, Dubai and Paris. Nowadays, people are more familiar with Nigerian cuisine as compared to a few years back. Keobi brings this experience in the city of Albany with fresh, authentic, and delicious servings.
Let's have a look at some factors which make Nigerian cuisine so distinctive and unique.
Cultural Influences on Nigerian Cuisine
Nigeria has diverse cultures that have noticeable influence on Nigerian cuisine. With multiple variety of dishes, including rice dishes, meat dishes, soups and many more, you can identify specific version of dishes with particular regions of Nigeria. Culture and religion both have a strong impact on Nigerian dishes.
Nigerian Cuisine and the Trade Factors
Trade is another factor in shaping and changing the flavors of Nigerian and African cuisine. Portuguese explorers and traders brought cassava to western Africa. European explorers and traders introduced several foods like beans, cassava, and maize to continental Africa. Today, Asian seasonings such as pepper, cinnamon, and nutmeg are still famous in Africa.
Spices and Seasonings in Nigeria Cuisines
Nigerians love spicy foods. Nigerian restaurants like to feature spicy and flavorful cuisine, just like most West African cuisines. The use of different spices and seasonings with unique proportions set Nigerian dishes apart from other ethnic foods and the tastes are amazing.
Nigerians love to create deeply-flavored recipes by using variety of spices and herbs in conjunction with different kinds of oil, especially palm oil. Most of their recipes often include chili peppers. In Nigeria, the peppers used are mostly the Scotch Bonnet variety known locally in many areas as 'Tatashe' cooked in palm oil or vegetable oils.
Some Popular Dishes of Nigeria
With so many ethnic foods in Nigeria, it is often difficult to pick and choose one main national or famous dish. Each area has its own regional favorite that depends on customs, tradition, and religion, but few internationally known dishes are mentioned below.
Jollof Rice: It is a unifying dish across Africa. It is cooked in a flavorful tomato broth. In some regions, served with vegetables and meat.
Nkwobi: It is a classic dish originating from the southeast of Nigeria cow legs that are smothered in a thick, spicy palm oil sauce.
Egusi soup: Rushed melon seeds are the main ingredient of this yummy soup.
Peppered snails: Snails are cooked with bell peppers
Suya: It is thinly sliced marinated meat sprinkled with mixed spice and grilled.
Nigerians love parties of different kinds, these dishes are always served at various events. Locally, Nigerians also enjoy snacking of Suya throughout the day. Some examples are fried yam chips, boiled groundnuts, chinchin, and akara.
Final Thoughts
Nigerian Cuisine is not only traditionally made by the people within the Nigerian boundaries but also appreciated by the people around the globe. Nigerians reside in every part of the world, and most prefer to eat their local dishes; as a result, Nigerian cuisine has gone global. Where ever there is a Nigerian party, you will find these tasty delicacies. Therefore, many non-Africans are experimenting with new Nigerian cuisine. According to another food blogger Mr. Oyegun, "now People are more adventurous with Nigerian food, which has not been so popular in the past."
Stop by for a #TasteofAfrica if you live in or near Albany, New York. If you're visiting the Capital District, make #keobirestaurant your one stop destination for all your food needs. Look for us on the lively and historic Lark Street in Albany. We are becoming one of the topmost ethnic restaurants in Upstate NY and we are sure you'd find a variety of menu items that'd make your stay worthwhile.
Connect with us also on Instagram @keobi_restaurant; Facebook @Keobirestaurant; Twitter @TeamKeobi and on Yelp @KeobiRestaurant
Have you been to Keobi lately? Share your experience in the comment box below.