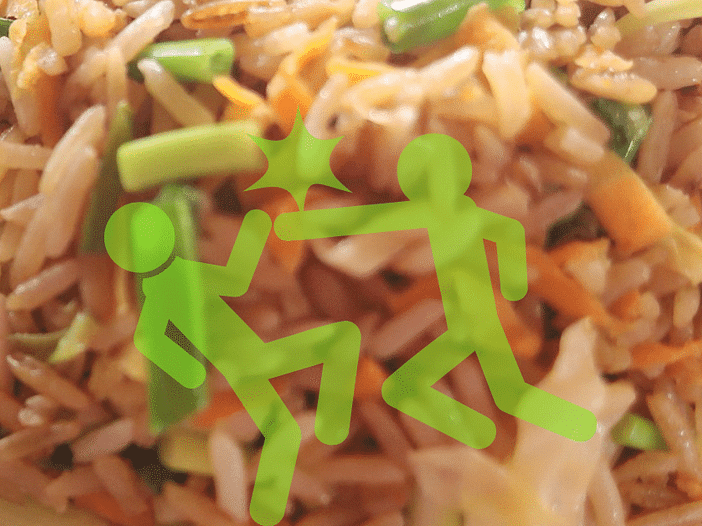 Have you heard about the Jollof Rice War? Yes, there is this ongoing "war" between
the two sister-countries, Nigeria and Ghana, about who makes the best Jollof Rice.
Jollof is a rice-based dish, perfectly combined with tomato and other spices. The dish is very famous in Nigeria, Ghana and other West African countries namely Gambia, Sierra Leone, Cameroon, Senegal, Togo, Côte d'Ivoire, Liberia, and Mali. But Nigerians and Ghanaians have always debated about who makes the best Jollof Rice.
Jollof Rice is Events Favorite Menu
Jollof rice is very delicious. Rice covered with fragrant red sauce. No African event, anywhere in the world, is complete without Jollof rice on the menu. You find it at weddings, birthday parties, graduations, picnics, and family gatherings. The hearty rich menu is also prepared in many African households with assorted spicy ingredients, but the basic recipe is always the same. But it seems the battle for who makes the best Jollof rice has not been settled.
Jollof Rice War Spilled to the Social Media
One thing unites Nigerians on the social media: the debate on whether Nigeria Jollof Rice is better than Ghana's, and similarly the Ghanaians.
Not long ago Twitter exploded with the #JollofRiceWar hashtag where one tweet says "there are many things we have in common with our sister country Ghana, but with jollof rice, there's no contest. Nigerian jollof is clearly superior."
Other West Africans tried to get into it as well:
The "Jollof Rice War" got so heated a Nigerian YouTuber devoted a whole segment on the matter.
Facebook's Mark Zuckerberg Got Involved
In August 2016, the social media giant, Facebook's boss Mark Zuckerberg was even dragged into the war when he visited Nigeria. He noted that he "had jollof rice and shrimp. It was delicious, fantastic. I was told not to compare Nigeria's jollof rice to that from other neighbouring countries."
Cooking Jollof Rice
The method of cooking is almost the same. It all starts with the seasoning of the meat. The spices actually determine the flavor of the broth too. The taste of the rice is good that you don't need too many toppings. Coleslaw, salads, and veggies can also go perfectly with them.
Jollof Rice Ingredients
Nigerian Jollof is made from long-grain rice. Such rice is sturdier and absorbs the maximum flavor from the spices and soup. Ghanaian Jollof on the other hand, is made from a type of basmati rice which has high flavor for another dimension to the dish flavor. The cooking method determines the texture of the rice too. Nigerian Jollof is a little crispy. Nigerians cook the rice until the bottom gets a bit crusty. Moreover, Nigerian Jollof also has a smoky flavor not just because of the crispy bottom while Ghanaian Jollof is less smoky in taste, and one might not get the super crispy base.
Who Makes the Best Jollof Rice?
We are the judge!
Jollof Rice at Keobi!
There is no debate about our Jollof Rice. At Keobi we make the Jollof rice everyone will love and we are confident that you will come for more every time. We have the perfect Jollof sizes for every occasion. Our lunchtime package will be filling and satisfying. We have the family and catering sizes. So, if you are looking for the best tasting Jollof rice, you can dine in or take out at our Lark Street location in Albany, NY, or order online.
Coupons for Jollof Rice
Oftentimes, we offer coupons for varieties of menus, including the Jollof rice. So like our Facebook page and/or follow us on twitter and Instagram to be the first to know about different promotions.
Stop by for a #TasteofAfrica if you live in or near Albany, New York. If you're visiting the Capital District, make #keobirestaurant your one stop destination for all your food needs. Look for us on the lively and historic Lark Street in Albany. We are becoming one of the topmost ethnic restaurants in Upstate NY and we are sure you'd find a variety of menu items that'd make your stay worthwhile.