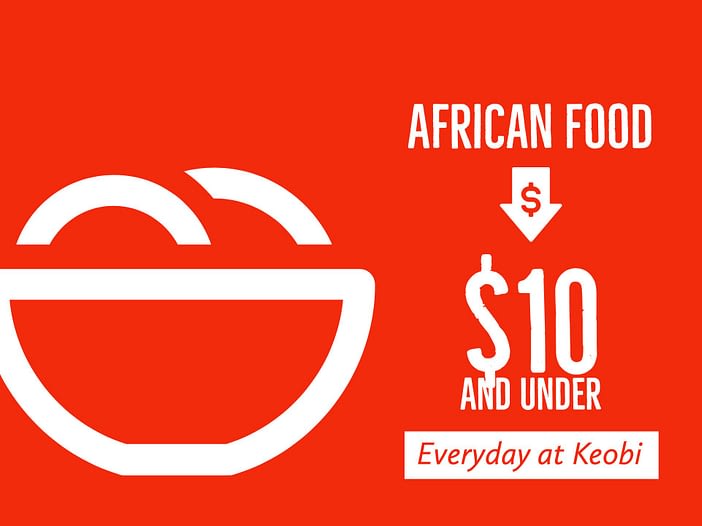 Do you find some Albany restaurant foods a bit pricey? In these economically challenging times, everyone is looking for way to eat frugal but healthy foods. The good news is that you can find nearly a dozen Nigerian Foods at $10 and under which will fill you up. If you are in the Capital Districts area and you are craving for African foods you may be surprised that Keobi menu includes varieties of tasty, mouth-watering dishes you can buy for $10 or less.
1. Couscous – $8.99
Couscous is a staple food commonly found in the Northern part of Africa mostly in Algeria, Tunisia, Mauritania, Morocco, and Libya. Couscous is pasta made from semolina flour mixed with water. Couscous is great with stews or excellent tossed with a little melted butter and salt.
2. Beans Porridge – $8.50
Beans Porridge, also called Ewa to the Yoruba part of Nigeria, is a delicious mix of black-eyed beans, onions, pepper, salt and palm oil served with a side of plantains or bread. It's commonly served with garri, bread, or yam.
3. Plantain Porridge – $9.50
The plantain porridge is a nutritious vegetable meal made with plantains simmered until tender in a flavorful broth along with assorted vegetables and fish, or meat. In fact, your trip to Lagos, Nigeria is not complete if you didn't taste this food while you are there. This combination of plantain and vegetable with dried fish and other ingredients that are meant to increase the nutritious quality.
4. Moi Moi – $5.00
Moi Moi is a popular food in Nigeria, and it's also the most popular side order at Keobi Restaurant. This delicious delicacy is highly rich in protein and other essential nutrients that play an important role in our bodies. In fact, we believe it's that good and popular that we have a special post dedicated to Moi Moi. Read it here >>>
5. Blended (Corn Meal) – $9.00
Cornmeal is a meal ground from dried maize. The Keobi's specially prepared cornmeal recipe is made with shrimp; chopped onions, tomatoes, bell peppers, and fresh chilies. It is a common staple food, and is ground to coarse, medium, and fine consistencies, but not as fine as wheat flour.
6. Egg Stew – $7.00
While it's not often eaten alone, we think we should throw this in to this list because the Nigerian Egg Stew is one of those meals that are special to Nigeria. Nigerians prepare their "scrambled eggs" differently than other part of the world so you need to try this delicious stew to taste the difference. Egg stew can be served with your choice of bread, yam or plantain, boiled or fried.
7. Keobi Special Beef Suya – $10.00
Suya is one of the best snacky foods among Nigerians. It is prepared with thinly sliced beef that is usually grilled over an open flame. This delicious snacky meat is served with fresh cabbage, tomatoes, and onions. It's often spicy and it has been a specialty of the Northern Nigeria ethnic group for a long time.
8. Keobi Chicken Wings – $7.50
This Keobi Special order is chicken wings tossed in olive oil, garlic, chili powder, garlic powder, salt and pepper. The finger-licking wings are a good afternoon snack on the go that you indulge to slip between meals.
9. Abacha – $7.50
Abacha, called African salad, is prepared from dried shredded cassava cooked with tiny bits cow skin, stock fish; spiced and sautéed with onions, peppers and scent leaves. This is another Nigerian food common among the Igbo people of Eastern Nigeria, and it's one of the Nigerian delicacies you cannot afford to eat before you die.
10. Salads – Less than $9.00
The Spicy Moroccan Salad and Vegetable Salads are very popular among our customers who are vegetarians. If you need a quick snack bite, or a dessert, you may find these salads healthy options to sugary or fatty foods.
Looking for heathy foods at least costly prices?
Stop by at Keobi for a #TasteofAfrica. If you're visiting the Capital District, make #keobirestaurant your one stop destination for all your food needs. You will find tasty foods at $10 and under that will fill you up. Look for us on the lively and historic Lark Street in Albany. We are becoming one of the topmost ethnic restaurants in Upstate NY and we are sure you'd find a variety of menu items that'd make your stay worthwhile.