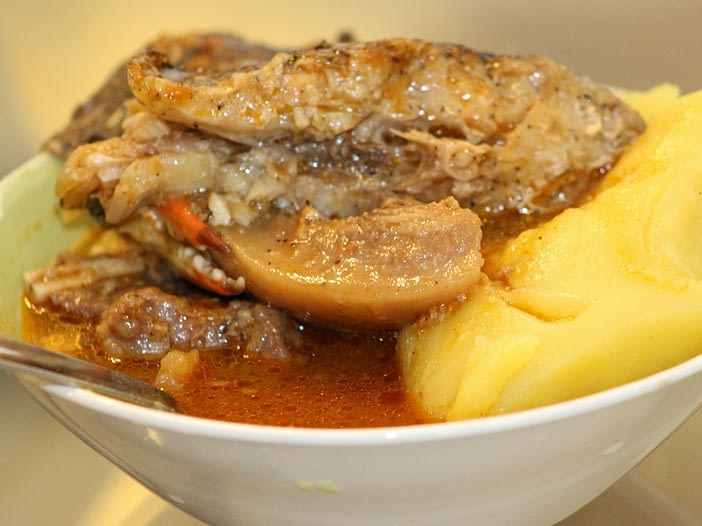 If you have not tried the highly trending Nigerian Fufu with Egusi Soup this year, you are propably alone. If you're searching online for Fufu, or Iyan, you're in the right place. The year 2021 has been a great year for Nigerian Fufu, also called Iyan or pounded yam. Fufu is one of the most popular swallows throughout Nigeria and it has gained interests internationally within the last year. As young as year 2021 is, Nigerian Fufu is now the most sort after among the younger generations. Fufu is high in nutrients and very easy to make, and it's one of the Nigerian food you must eat before you die. It is prepared from peeled yam tubers, cut into cubes, boil in water until they are fork-tender. The boiled yams can then be either pounded in a mortar and pestle until it into a soft dough or blended in a special blender, called Poundo. 
How do you eat Fufu?
In America someone can be ridiculed for eating pizza with fork. While no one will ridicule anyone for eating fufu or iyan with a fork, the best way to enjoy it is with your fingers. You simply make iyan into small balls that can be safely swallowed. Fufu goes perfectly with Egusi, Bitter leaf or Jute leaf soup, Okra soup, Spinach stew, and Ogbono soup. Click here to see a demo.
Egusi Soup
Egusi soup is made from melons, commonly found in West Africa. The seeds are dried and ground before making into delicious soup. These seeds are rich in fat and protein and adds essential nutrients into West African Cuisine. Nigerian Egusi soup is thickened with these ground melon seeds along with leafy vegetables of choice.
Ewedu
Ewedu is a green leafy vegetable used in preparing a soup and great for fufu. Ewedu soup is a versatile vegetable soup eaten with various other Nigerian cuisines. Various regions in Nigeria make the soup with different variations of taste.
Bitter Leaf
Bitter Leaf is one of the favorite Nigerian soup recipes. It is a famous Nigerian traditional soup for fufu. This nutritious and tasty soup dish is primarily native to the Eastern Nigeria. Some people might be confused by the word "bitter" to think the soup tastes bitter. On the contrary, when cook the right way, this leaf
Okra Soup
Okro/Okra soup is made with okra vegetables cooked in a delicious mixture of palm oil, shrimps, goat meat, fish and African spices, and simmered to perfection. This rich okro soup is common in Nigerian and many West African countries like Ghana, and Cameroon. Okra soup is delicious and nutritious and is rich in proteins and healthy fat. It will make your Nigerian fufu taste smoothly in your mouth.
Ready for your taste of Nigerian Fufu today
Stop by for a #TasteofAfrica if you live in or near Albany, New York for your taste of Nigerian fufu with your option of amazingly tasty soup. If you're visiting the Capital District, make #keobirestaurant your one stop destination for all your food needs. Look for us on the lively and historic Lark Street in Albany. We are becoming one of the topmost ethnic restaurants in Upstate NY and we are sure you'd find a variety of menu items that'd make your stay worthwhile.
We are open for take out only!
Demonstration for Eating Fufu